Who are we?
We are a team of Dynamic and Diverse professionals whose goal is to steer you in a straight line to success. Our team have extensive experience in helping both businesses and individuals put in place accounting systems which allow them to go about their daily routine stress-free and with financial confidence.

What we specialise in?

Our Dynamic Team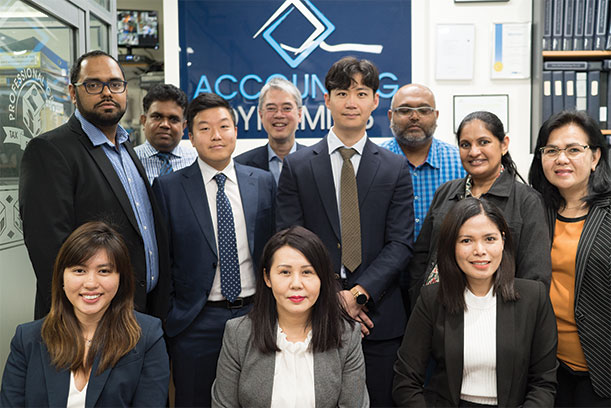 Learn more
What we specialise in?
At Accounting Dynamics we know that whether you are a sole trader, company, family trust or individual, taxation can involve complex and confusing calculations. Our highly qualified team have the knowledge and expertise to provide you or your business with easy to understand accounting and taxation advice.
The process of handling business activities and the related accounting aspects can take up a lot of your resources and time that is why Accounting Dynamics offer a holistic BAS service and all of our friendly team are experienced and well versed in all aspects of BAS provisions.
Sometimes you need an external team who can help you run your bookkeeping. Accounting Dynamics are here to help with our world-class team of professional chartered accountants, bookkeepers & system integrators who strive to save you time & money! Our team can help you keep your bookkeeping on track so you don't have to.
We all know that Budgets and forecasts are valuable management tools which can be used for strategic and financial planning, the allocation of resources and overall performance evaluation. The team at Accounting Dynamics has created hundreds of custom made budgets supporting small and large businesses in all stages of their growth.
While understanding profit and loss is important, it doesn't tell you the whole story. A significant amount of business takes place without any money changing hands, and the actual exchange of cash may happen after the profit/loss is recorded. To gain a deeper understanding of the cash and cash equivalents that come in and out of your business, a cash flow statement is crucial. Accounting Dynamics can help you with this process. Our Friendly team will perform an in-depth evaluation of your finances and create a snapshot of your business!
Everyone knows that getting your business activity statements correct and keeping them lodged on time can be a nightmare! At Accounting Dynamics know it is critical for taxation and business purposes that you stay on top of your monthly & quarterly Reporting. Our team are Registered BAS agents with years of real-world experience. Don't put yourself through the time-consuming nightmare let the team at Accounting Dynamics get the job done for you!
Accounting Dynamics management accountants work for public companies, private businesses, and government agencies. Our team can analyse data and make financial predictions for future business performance. All accounting services that are required by law are provided by our dynamic in house team, to ensure that the financial responsibility of your business is maintained professionally.
Guess what ... setting up a self managed superfund really doesn't have to be complicated! If you have been thinking about establishing an SMSF then the team at Accounting Dynamics can attend to all aspects of the setup process for you and make the process seamless and stress-free.
Having performed countless SMSF audits every year, Accounting Dynamics is perfectly suited to be your trusted audit partner and to support your business needs. Our Team value our relationships with our clients and provide nothing but the best service. Change the way you handle your SMSF and trust Accounting Dynamics to solve your SMSF audit needs.
Our team of software solution specialists can put your real-time business finance information in your pocket. We can help you audit your business software applications and create a more streamlined business flow which can not only save you time but also money. Reach out to us today to find out more and one of our friendly team will provide you with more information on how we can streamline your business.
Accounting Dynamics live and breathe tax! All-day every day. Its all par for the course, because our businesses and clients are trying to work their way through one of if not the most complex tax systems in the world. The team at Accounting Dynamics are dedicated to our clients and we work tirelessly to stay on top of the latest legislation, changes that may impact upon you and your tax obligations, and we strategise a plan on how you can minimise your tax and maximise your profits within your business.
Accounting Dynamics management consulting service focuses on our clients' main issues and opportunities such as: marketing, organisation, internal operations, technology & software deployment, business transformations, digital direction, meta & analytics, finance, mergers & acquisitions. Our team with over 40+ years combined experience have a deep, functional understanding of all aspects of running a business and known for our holistic perspective and dedication to our clients. Reach out today, we can't wait to partner with you!
Is your business performing at peak level? The team at Accounting Dynamics are here to help you answer that question our team can evaluate various aspects of your processes in relation to best practice, within your sector and come back to you with valuable information as to where your business sits relative to industry standards. We can help you identify when you can improve and where you excel and help guide you with a strategy to be above the benchmark!
Enquire Today